R
e
a
c
h

U
s
+91 09302834985
+91 09993530009
+91-788-2352148
+91-788-2286268
Mehta Steels 137, Light industrial area, Bhilai, Chattisgarh Pin- 490026, India.
Mild steel angles
Mehta Steels is stockist and suppliers of ms angles :
Mild steel angles stockholder:
'Mehta steels' supplies angle (L shaped cross section) made of mild steel by hot rolling process in a steel rolling mill or steel plant. Ms equal angles are classified as light angles, heavy angles , unequal angles, other imported profiles, and rolled angles.
The ms angles supplied by Mehta steels are used in various construction , engineering and fabrication activities , industrial sheds , balance of plant structural , etc. Mild steel angles are most commonly used steel structural item.
ISA or Indian standard angles supplied by 'Mehta steels' are available in mild steel grades and high tensile grade commonly used as ht steel grade as per Indian & international specifications. Mehta steels undertakes orders and supplies ht angles or ISA in ht grades such as IS 2062 E350 BR. all kind of ms angles are available in various sizes and length as per requirements.
Basic sizes of ms equal angles available in ready stock with 'Mehta Steels' are: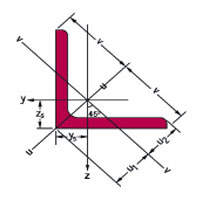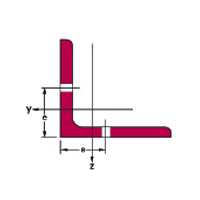 Sr.No

Item

Description

G

h = b

t

r1

r2

A

zs=ys

v

u1

u2

AL

AG

kg/m

mm

mm

mm

mm

mm2

mm

mm

mm

mm

m2/m

m2/t

x102

x10

x10

x10

x10

1

ISA

20 x 20 x 3

0.879

20

3

3.5

2.0

1.12

0.596

1.41

0.843

0.700

0.077

87.40

2

ISA

25 x 25 x 3

1.11

25

3

3.5

2.0

1.42

0.721

1.77

1.02

0.877

0.097

86.88

3

ISA

25 x 25 x 4

1.45

25

4

3.5

2.0

1.85

0.761

1.77

1.08

0.892

0.097

66.67

4

ISA

32 x 32 x 3

1.36

32

3

5

2.5

1.74

0.835

2.12

1.18

1.05

0.116

84.87

5

ISA

32 x 32 x 4

1.78

32

4

5

2.5

2.27

0.878

2.12

1.24

1.06

0.116

65.02

6

ISA

35 x 35 x 4

2.09

35

4

5

2.5

2.67

1.00

2.47

1.42

1.24

0.136

64.82

7

ISA

40 x 40 x 4

2.42

40

4

6

3.0

3.08

1.12

2.83

1.58

1.40

0.155

64.07

8

ISA

40 x 40 x 5

2.97

40

5

6

3.0

3.79

1.16

2.83

1.64

1.41

0.155

52.07

9

ISA

45 x 45 x 4

2.74

45

4

7

3.5

3.49

1.23

3.18

1.75

1.57

0.174

63.46

10

ISA

45 x 45 x 5

3.38

45

5

7

3.5

4.3

1.28

3.18

1.81

1.58

0.174

51.51

11

ISA

50 x 50 x 4

3.06

50

4

7

3.5

3.89

1.36

3.54

1.92

1.75

0.194

63.49

12

ISA

50 x 50 x 5

3.77

50

5

7

3.5

4.80

1.40

3.54

1.99

1.76

0.194

51.46

13

ISA

50 x 50 x 6

4.47

50

6

7

3.5

5.69

1.45

3.54

2.04

1.77

0.194

43.41

14

ISA

55 x 55 x 5

4.18

55

5

8

4.0

5.32

1.52

3.89

2.15

1.93

0.213

51.05

15

ISA

55 x 55 x 6

4.95

55

6

8

4.0

6.31

1.56

3.89

2.21

1.94

0.213

43.04

16

ISA

60 x 60 x 4

3.70

60

4

8

4.0

4.71

1.60

4.24

2.26

2.10

0.233

63.07

17

ISA

60 x 60 x 5

4.57

60

5

8

4.0

5.82

1.64

4.24

2.32

2.11

0.233

51.04

18

ISA

60 x 60 x 6

5.42

60

6

8

4.0

6.91

1.69

4.24

2.39

2.11

0.233

42.99

19

ISA

65 x 65 x 6

5.91

65

6

9

4.5

7.53

1.80

4.60

2.55

2.28

0.252

42.70

20

ISA

65 x 65 x 7

6.83

65

7

9

4.5

8.70

1.85

4.60

2.61

2.29

0.252

36.95

21

ISA

65 x 65 x 8

7.73

65

8

9

4.5

9.85

1.89

4.60

2.67

2.31

0.252

32.64

22

ISA

70 x 70 x 6

6.38

70

6

9

4.5

8.13

1.93

4.95

2.73

2.46

0.272

42.68

23

ISA

75 x 75 x 5

5.76

75

5

9

4.5

7.34

2.01

5.30

2.84

2.63

0.292

50.75

24

ISA

75 x 75 x 6

6.85

75

6

9

4.5

8.73

2.05

5.30

2.90

2.64

0.292

42.66

25

ISA

75 x 75 x 8

8.99

75

8

9

4.5

11.4

2.14

5.30

3.02

2.66

0.292

32.53

26

ISA

75 x 75 x 10

11.1

75

10

9

4.5

14.1

2.22

5.30

3.13

2.69

0.292

26.43

27

ISA

80 x 80 x 6

7.34

80

6

10

5.0

9.35

2.17

5.66

3.07

2.81

0.311

42.44

28

ISA

80 x 80 x 8

9.63

80

8

10

5.0

12.3

2.26

5.66

3.19

2.83

0.311

32.34

29

ISA

80 x 80 x 10

11.9

80

10

10

5.0

15.1

2.34

5.66

3.30

2.85

0.311

26.26

30

ISA

90 x 90 x 6

8.28

90

6

10

5.0

10.5

2.42

6.36

3.42

3.16

0.351

42.44

31

ISA

90 x 90 x 8

10.9

90

8

11

5.5

13.9

2.50

6.36

3.53

3.17

0.351

32.15

32

ISA

90 x 90 x 10

13.4

90

10

11

5.5

17.1

2.58

6.36

3.65

3.19

0.351

26.07

33

ISA

100 x 100 x 6

9.26

100

6

12

6.0

11.8

2.64

7.07

3.74

3.51

0.390

42.09

34

ISA

100 x 100 x 8

12.2

100

8

12

6.0

15.5

2.74

7.07

3.87

3.52

0.390

32.00

35

ISA

100 x 100 x 10

15.0

100

10

12

6.0

19.2

2.82

7.07

3.99

3.54

0.390

25.92

36

ISA

100 x 100 x 12

17.8

100

12

12

6.0

22.7

2.90

7.07

4.11

3.57

0.390

21.86

37

ISA

110 x 110 x 8

13.4

110

8

12

6.0

17.1

2.99

7.78

4.22

3.87

0.430

31.98

38

ISA

110 x 110 x 10

16.6

110

10

13

6.5

21.2

3.06

7.78

4.33

3.88

0.429

25.79

39

ISA

110 x 110 x 12

19.7

110

12

13

6.5

25.1

3.15

7.78

4.45

3.91

0.429

21.73

40

ISA

120 x 120 x 8

14.7

120

8

13

6.5

18.7

3.23

8.49

4.56

4.22

0.469

31.87

41

ISA

120 x 120 x 10

18.2

120

10

13

6.5

23.2

3.31

8.49

4.69

4.24

0.469

25.76

42

ISA

120 x 120 x 12

21.6

120

12

13

6.5

27.5

3.40

8.49

4.80

4.26

0.469

21.69

43

ISA

130 x 130 x 10

19.8

130

10

14

7.0

25.2

3.55

9.19

5.03

4.58

0.508

25.67

44

ISA

130 x 130 x 12

23.5

130

12

14

7.0

30.0

3.64

9.19

5.15

4.60

0.508

21.59

45

ISA

150 x 150 x 10

23.0

150

10

16

8.0

29.3

4.03

10.61

5.71

5.28

0.586

25.51

46

ISA

150 x 150 x 12

27.3

150

12

16

8.0

34.8

4.12

10.61

5.83

5.29

0.586

21.44

47

ISA

150 x 150 x 16

35.9

150

16

16

8.0

45.7

4.29

10.61

6.06

5.34

0.586

16.34

48

ISA

150 x 150 x 18

40.1

150

18

16

8.0

51.0

4.37

10.61

6.17

5.37

0.586

14.63

49

ISA

150 x 150 x 20

44.2

150

20

16

8.0

56.3

4.44

10.61

6.28

5.41

0.586

13.27

50

ISA

200 x 200 x 15

45.6

200

15

18

9.0

58.1

5.48

14.14

7.75

7.08

0.785

17.20

51

ISA

200 x 200 x 16

48.5

200

16

18

9.0

61.8

5.52

14.14

7.81

7.09

0.785

16.18

52

ISA

200 x 200 x 17

51.4

200

17

18

9.0

65.5

5.56

14.14

7.87

7.10

0.785

15.27

53

ISA

200 x 200 x 18

54.2

200

18

18

9.0

69.1

5.60

14.14

7.93

7.12

0.785

14.46

54

ISA

200 x 200 x 19

57.1

200

19

18

9.0

72.7

5.64

14.14

7.98

7.13

0.785

13.74

55

ISA

200 x 200 x 20

59.9

200

20

18

9.0

76.3

5.68

14.14

8.04

7.15

0.785

13.09

56

ISA

200 x 200 x 21

62.8

200

21

18

9.0

79.9

5.72

14.14

8.09

7.16

0.785

12.50

57

ISA

200 x 200 x 22

65.6

200

22

18

9.0

83.5

5.76

14.14

8.15

7.18

0.785

11.97

58

ISA

200 x 200 x 23

68.3

200

23

18

9.0

87.1

5.80

14.14

8.20

7.19

0.785

11.48

59

ISA

200 x 200 x 24

71.1

200

24

18

9.0

90.6

5.84

14.14

8.26

7.21

0.785

11.03

60

ISA

200 x 200 x 25

73.9

200

25

18

9.0

94.1

5.88

14.14

8.31

7.23

0.785

10.62

61

ISA

250 x 250 x 20

75.6

250

20

18

9.0

96.3

6.93

17.68

9.81

8.91

0.985

13.02