L
l
e
g
a
r

a

n
o
s
o
t
r
a
s
+91 09302834985
+91 09993530009
+91-788-2352148
+91-788-2286268
Mehta Steels 137, Light industrial area, Bhilai, Chattisgarh Pin- 490026, India.
Ms beams
Accionista y proveedor de vigas de acero dulce:
Mehta steels comercializa y suministra ms vigas , también conocidas como ISMB o viguetas.
Mehta Steels es un reconocido proveedor de vigas de acero dulce fabricadas por SAIL, re laminadores y otros molinos de renombre en todo el mundo.
Vigas de acero dulce: los "aceros Mehta" comúnmente suministran "I" y amp; Forma de "H" haces ligeros y pesados ​​( ISMB & amp; ISHB ), viguetas , columnas, perfiles importados, secciones como IPN, NPB, WPB , HEA, HEB, UC, UB , etc. Vigas suministradas por 'Mehta los aceros "están disponibles en grado de acero dulce y grado de alta resistencia
& nbsp;
Dimensiones comunes de las vigas ms (ISMB) de Origen indio disponible en stock listo con "aceros Mehta" son:
Sr.No.

Deccription

Size

Section weight
(KG/Mtrs)

1

ISMB 125

125 X 70

13.3

2

ISMB 150

150 X 75

15

3

ISMB 200

200 X 100

24.2

4

ISMB 250

250 X 125

37.3

5

ISMB 300

300 X 140

46

6

ISMB 350

350 X 140

52.4

7

ISMB 400

400 X 140

61.5

8

ISMB 450

450 X 150

72.4

9

ISMB 500

500 x 180

86.9

10

ISMB 600

600 x 210

123
Detalles de vigas perfiladas importadas suministradas por Mehta Steels Los aceros Mehta son una de las pocas empresas de la India con experiencia en el suministro de Perfile las secciones de vigas importadas según las normas internacionales. Aceros Mehta obtiene estas secciones de fábricas de renombre de todo el mundo y garantiza la suministro de material de calidad adecuada, entrega inmediata a precios competitivos. Mehta Steels puede suministrar las siguientes secciones importadas: Las los nombres de los perfiles de acero estándar internacional son
IPE
IPN
HE
HL
HD
HP
ACB – CASTELLATED BEAMS WITH CIRCULAR OPENINGS.
CASTELLATED BEAMS WITH HEXAGONAL OPENINGS.
ACB – CASTELLATED BEAMS WITH SINUSOIDAL OPENINGS "ANGELINA".
IFB
SFB
UB
J
UC
UBP
WIDE FLANGE BEAMS.
S
HP
HP
HG
JAPANESE H SECTIONS.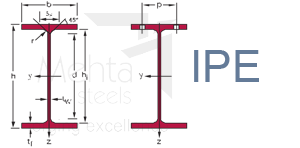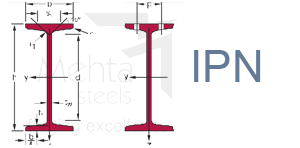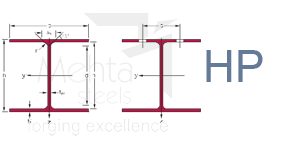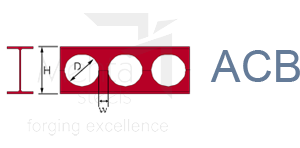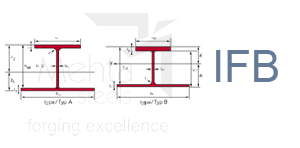 Por favor envíenos un correo electrónico con todas sus consultas y consultas relacionadas con Las secciones importadas, los perfiles especiales y Jindal hacen vigas para

European I beams
European I beams
IPE
Dimensions: IPE 80 – 600 in accordance with former standard EU 19-57
IPE AA 80 – 550, IPE A 80 – 600, IPE O 180 – 600, IPE 750 ON AS IS WHERE IS BASIS
Tolerances: EN 10034: 1993
Surface condition: according to EN 10163-3: 2004, class C, subclass 1
G
h
b
tw
tf
r
A
hi
d
Ø
Pmin
Pmax
AL
AG
kg/m
mm
mm
mm
mm
mm
mm2
mm
mm
mm
mm
m2/m
m2/t
x102
IPE AA 80*
4.9
78
46
3.2
4.2
5.0
6.31
69.6
59.6
–
–
–
0.325
65.62
IPE A 80•/*
5.0
78
46
3.3
4.2
5.0
6.38
69.6
59.6
–
–
–
0.325
64.90
IPE 80*
6.0
80
46
3.8
5.2
5.0
7.64
69.6
59.6
–
–
–
0.328
54.64
IPE AA 100*
6.7
97.6
55
3.6
4.5
7.0
8.56
88.6
74.6
–
–
–
0.396
58.93
IPE A 100•/*
6.9
98
55
3.6
4.7
7.0
8.8
88.6
74.6
–
–
–
0.397
57.57
IPE 100*
8.1
100
55
4.1
5.7
7.0
10.3
88.6
74.6
–
–
–
0.400
49.33
IPE AA 120*
8.4
117
64
3.8
4.8
7.0
10.7
107.4
93.4
–
–
–
0.470
56.26
IPE A 120•
8.7
117.6
64
3.8
5.1
7.0
11.0
107.4
93.4
–
–
–
0.472
54.47
IPE 120
10.4
120
64
4.4
6.3
7.0
13.2
107.4
93.4
–
–
–
0.475
45.82
IPE AA 140*
10.1
136.6
73
3.8
5.2
7.0
12.8
126.2
112.2
–
–
–
0.546
54.26
IPE A 140•
10.5
137.4
73
3.8
5.6
7.0
13.4
126.2
112.2
–
–
–
0.547
52.05
IPE 140
12.9
140
73
4.7
6.9
7.0
16.4
126.2
112.2
–
–
–
0.551
42.70
IPE AA 160*
12.1
156.4
82
4.0
5.6
7.0
15.4
145.2
131.2
–
–
–
0.621
50.40
IPE A 160•
12.7
157
82
4.0
5.9
9.0
16.2
145.2
127.2
–
–
–
0.619
48.70
IPE 160
15.8
160
82
5.0
7.4
9.0
20.1
145.2
127.2
–
–
–
0.623
39.47
IPE AA 180*
14.9
176.4
91
4.3
6.2
9.0
19.0
164.0
146.0
M 10
48
48
0.693
46.37
IPE A 180•
15.4
177
91
4.3
6.5
9.0
19.6
164.0
146.0
M 10
48
48
0.694
45.15
IPE 180
18.8
180
91
5.3
8.0
9.0
23.9
164.0
146.0
M 10
48
48
0.698
37.13
IPE O 180+
21.3
182
92
6.0
9.0
9.0
27.1
164.0
146.0
M 10
50
50
0.705
33.12
IPE AA 200*
18.0
196.4
100
4.5
6.7
12.0
22.9
183.0
159.0
M 10
54
58
0.763
42.51
IPE A 200•
18.4
197
100
4.5
7.0
12.0
23.5
183.0
159.0
M 10
54
58
0.764
41.49
IPE 200
22.4
200
100
5.6
8.5
12.0
28.5
183.0
159.0
M 10
54
58
0.768
34.36
IPE O 200+
25.1
202
102
6.2
9.5
12.0
32.0
183.0
159.0
M 10
56
60
0.779
31.05
IPE AA 220*
21.2
216.4
110
4.7
7.4
12.0
27.0
201.6
177.6
M 12
60
62
0.843
39.78
IPE A 220•
22.2
217
110
5.0
7.7
12.0
28.3
201.6
177.6
M 12
60
62
0.843
38.02
IPE 220
26.2
220
110
5.9
9.2
12.0
33.4
201.6
177.6
M 12
60
62
0.848
32.36
IPE O 220+
29.4
222
112
6.6
10.2
12.0
37.4
201.6
177.6
M 10
58
66
0.858
29.24
IPE AA 240*
24.9
236.4
120
4.8
8.0
15.0
31.7
220.4
190.4
M 12
64
68
0.917
36.86
IPE A 240•
26.2
237
120
5.2
8.3
15.0
33.3
220.4
190.4
M 12
64
68
0.918
35.10
IPE 240
30.7
240
120
6.2
9.8
15.0
39.1
220.4
190.4
M 12
66
68
0.922
30.02
IPE O 240+
34.3
242
122
7.0
10.8
15.0
43.7
220.4
190.4
M 12
66
70
0.932
27.17
IPE A 270•
30.7
267
135
5.5
8.7
15.0
39.2
249.6
219.6
M 16
70
72
1.037
33.75
IPE 270
36.1
270
135
6.6
10.2
15.0
45.9
249.6
219.6
M 16
72
72
1.041
28.86
IPE O 270+
42.3
274
136
7.5
12.2
15.0
53.8
249.6
219.6
M 16
72
72
1.051
24.88
IPE A 300•
36.5
297
150
6.1
9.2
15.0
46.5
278.6
248.6
M 16
72
86
1.156
31.65
IPE 300
42.2
300
150
7.1
10.7
15.0
53.8
278.6
248.6
M 16
72
86
1.160
27.46
IPE O 300+
49.3
304
152
8.0
12.7
15.0
62.8
278.6
248.6
M 16
74
88
1.174
23.81
IPE A 330•
43.0
327
160
6.5
10.0
18.0
54.7
307.0
271.0
M 16
78
96
1.250
29.09
IPE 330
49.1
330
160
7.5
11.5
18.0
62.6
307.0
271.0
M 16
78
96
1.254
25.52
IPE O 330+
57.0
334
162
8.5
13.5
18.0
72.6
307.0
271.0
M 16
80
98
1.268
22.24
IPE A 360•
50.2
357.6
170
6.6
11.5
18.0
64.0
334.6
298.6
M 22
86
88
1.351
26.91
IPE 360
57.1
360
170
8.0
12.7
18.0
72.7
334.6
298.6
M 22
88
88
1.353
23.70
IPE O 360+
66.0
364
172
9.2
14.7
18.0
84.1
334.6
298.6
M 22
90
90
1.367
20.69
IPE A 400•
57.4
397
180
7.0
12.0
21.0
73.1
373.0
331.0
M 22
94
98
1.464
25.51
IPE 400
66.3
400
180
8.6
13.5
21.0
84.5
373.0
331.0
M 22
96
98
1.467
22.12
IPE O 400+
75.7
404
182
9.7
15.5
21.0
96.4
373.0
331.0
M 22
96
100
1.481
19.57
IPE A 450•
67.2
447
190
7.6
13.1
21.0
85.6
420.8
378.8
M 24
100
102
1.603
23.87
IPE 450
77.6
450
190
9.4
14.6
21.0
98.8
420.8
378.8
M 24
100
102
1.605
20.69
IPE O 450+
92.4
456
192
11.0
17.6
21.0
118
420.8
378.8
M 24
102
104
1.622
17.56
IPE A 500•
79.4
497
200
8.4
14.5
21.0
101
468.0
426.0
M 24
100
112
1.741
21.94
IPE 500
90.7
500
200
10.2
16.0
21.0
116
468.0
426.0
M 24
102
112
1.744
19.23
IPE O 500+
107
506
202
12.0
19.0
21.0
137
468.0
426.0
M 24
104
114
1.76
16.4
IPE A 550•
92.1
547
210
9.0
15.7
24.0
117
515.6
467.6
M 24
106
122
1.875
20.36
IPE 550
106
550
210
11.1
17.2
24.0
134
515.6
467.6
M 24
110
122
1.877
17.78
IPE O 550+
123
556
212
12.7
20.2
24.0
156
515.6
467.6
M 24
110
122
1.893
15.45
IPE A 600•
108
597
220
9.8
17.5
24.0
137
562.0
514.0
M 27
114
118
2.013
18.72
IPE 600
122
600
220
12.0
19.0
24.0
156
562.0
514.0
M 27
116
118
2.015
16.45
IPE O 600+
154
610
224
15.0
24.0
24.0
197
562.0
514.0
M 27
118
122
2.045
13.24
IPE 750 x 137*
137
753
263
11.5
17.0
17.0
175
719.0
685.0
M 27
102
162
2.506
18.28
IPE 750 x 147
147
753
265
13.2
17.0
17.0
188
719.0
685.0
M 27
104
164
2.51
17.06
IPE 750 x 173+
173
762
267
14.4
21.6
17.0
221
718.8
684.8
M 27
104
166
2.534
14.58
IPE 750 x 196+
196
770
268
15.6
25.4
17.0
251
719.2
685.2
M 27
106
166
2.552
12.96
European wide flange beams
European wide flange beams
HE
Dim.: HE A, HE B and HE M 100 – 1000 in accordance with former standard EU 53-62; HE 1000 with GHE>GHEM in accordance with ASTM A 6/A 6M – 07
HE C in accordance with PN-H-93452: 2005; HE AA 100-1000 ON AS IS WHERE IS BASIS
Tolerances: EN 10034: 1993 HE 100 – 900; HE 1000 AA-M
ASTM A 6/A 6M – 07 HE 1000 with GHE>GHE M
Surface condition: according to EN 10163-3: 2004, class C, subclass 1
G
h
b
tw
tf
r
A
hi
d
Ø
Pmin
Pmax
AL
AG
kg/m
mm
mm
mm
mm
mm
mm2
mm
mm
mm
mm
m2/m
m2/t
x102
HE 100 AA•
12,2
91
100
4.2
5.5
12
15.6
80
56
M 10
54
58
0.553
45.17
HE 100 A
16,7
96
100
5
8
12
21.2
80
56
M 10
54
58
0.561
33.68
HE 100 B
20,4
100
100
6
10
12
26.0
80
56
M 10
56
58
0.567
27.76
HE 100 C*
30.9
110
103
9
15
12
39.3
80
56
M 10
59
61
0.593
19.23
HE 100 M
41,8
120
106
12
20
12
53.2
80
56
M 10
62
64
0.619
14.82
HE 120 AA•
14,6
109
120
4.2
5.5
12
18.6
98
74
M 12
58
68
0.669
45.94
HE 120 A
19,9
114
120
5
8
12
25.3
98
74
M 12
58
68
0.677
34.06
HE 120 B
26,7
120
120
6.5
11
12
34.0
98
74
M 12
60
68
0.686
25.71
HE 120 C*
39.2
130
123
9.5
16
12
49.9
98
74
M 12
63
72
0.712
18.19
HE 120 M
52,1
140
126
12.5
21
12
66.4
98
74
M 12
66
74
0.738
14.16
HE 140 AA•
18,1
128
140
4.3
6
12
23.0
116
92
M 16
64
76
0.787
43.53
HE 140 A
24,7
133
140
5.5
8.5
12
31.4
116
92
M 16
64
76
0.794
32.21
HE 140 B
33,7
140
140
7
12
12
43.0
116
92
M 16
66
76
0.805
23.88
HE 140 C*
48.2
150
143
10
17
12
61.5
116
92
M 16
69
79
0.831
17.22
HE 140 M
63,2
160
146
13
22
12
80.6
116
92
M 16
72
82
0.857
13.56
HE 160 AA•
23,8
148
160
4.5
7
15
30.4
134
104
M 20
76
84
0.901
37.81
HE 160 A
30,4
152
160
6
9
15
38.8
134
104
M 20
78
84
0.906
29.78
HE 160 B
42,6
160
160
8
13
15
54.3
134
104
M 20
80
84
0.918
21.56
HE 160 C*
59.2
170
163
11
18
15
75.4
134
104
M 20
84
88
0.944
15.95
HE 160 M
76,2
180
166
14
23
15
97.1
134
104
M 20
86
90
0.970
12.74
HE 180 AA•
28,7
167
180
5
7.5
15
36.5
152
122
M 24
84
92
1.018
35.51
HE 180 A
35,5
171
180
6
9.5
15
45.3
152
122
M 24
86
92
1.024
28.83
HE 180 B
51,2
180
180
8.5
14
15
65.3
152
122
M 24
88
92
1.037
20.25
HE 180 C*
69.8
190
183
11.5
19
15
89.0
152
122
M 27
92
96
1.063
15.22
HE 180 M
88,9
200
186
14.5
24
15
113.3
152
122
M 24
94
98
1.089
12.25
HE 200 AA•
34,6
186
200
5.5
8
18
44.1
170
134
M 27
96
100
1.130
32.62
HE 200 A
42,3
190
200
6.5
10
18
53.8
170
134
M 27
98
100
1.136
26.89
HE 200 B
61,3
200
200
9
15
18
78.1
170
134
M 27
100
100
1.151
18.78
HE 200 C*
81.9
210
203
12
20
18
104.4
170
134
M 27
104
104
1.177
14.36
HE 200 M
103
220
206
15
25
18
131.3
170
134
M 27
106
106
1.203
11.67
HE 220 AA•
40,4
205
220
6
8.5
18
51.5
188
152
M 27
98
118
1.247
30.87
HE 220 A
50,5
210
220
7
11
18
64.3
188
152
M 27
98
118
1.255
24.85
HE 220 B
71,5
220
220
9.5
16
18
91.0
188
152
M 27
100
118
1.270
17.77
HE 220 C*
94.1
230
223
12.5
21
18
119.9
188
152
M 27
104
122
1.296
13.77
HE 220 M
117
240
226
15.5
26
18
149.4
188
152
M 27
108
124
1.322
11.27
HE 240 AA•
47,4
224
240
6.5
9
21
60.4
206
164
M 27
104
138
1.359
28.67
HE 240 A
60,3
230
240
7.5
12
21
76.8
206
164
M 27
104
138
1.369
22.70
HE 240 B
83,2
240
240
10
17
21
106.0
206
164
M 27
108
138
1.384
16.63
HE 240 C*
119
255
244
14
24.5
21
152.2
206
164
M 27
112
142
1.422
11.90
HE 240 M
157
270
248
18
32
21
199.6
206
164
M 27
116
146
1.460
9.318
HE 260 AA•
54,1
244
260
6.5
9.5
24
69.0
225
177
M 27
110
158
1.474
27.22
HE 260 A
68,2
250
260
7.5
12.5
24
86.8
225
177
M 27
110
158
1.484
21.77
HE 260 B
93.0
260
260
10
17.5
24
118.4
225
177
M 27
114
158
1.499
16.12
HE 260 C*
132
275
264
14
25
24
168.4
225
177
M 27
118
162
1.537
11.63
HE 260 M
172
290
268
18
32.5
24
219.6
225
177
M 27
122
166
1.575
9.133
HE 280 AA•
61,2
264
280
7
10
24
78.0
244
196
M 27
110
178
1.593
26.01
HE 280 A
76,4
270
280
8
13
24
97.3
244
196
M 27
112
178
1.603
20.99
HE 280 B
103
280
280
10.5
18
24
131.4
244
196
M 27
114
178
1.618
15.69
HE 280 C*
145
295
284
14.5
25.5
24
185.2
244
196
M 27
118
182
1.656
11.39
HE 280 M
189
310
288
18.5
33
24
240.2
244
196
M 27
122
186
1.694
8.984
HE 300 AA•
69,8
283
300
7.5
10.5
27
88.9
262
208
M 27
116
198
1.705
24.42
HE 300 A
88,3
290
300
8.5
14
27
112.5
262
208
M 27
118
198
1.717
19.43
HE 300 B
117
300
300
11
19
27
149.1
262
208
M 27
120
198
1.732
14.80
HE 300 C*
177
320
305
16
29
27
225.1
262
208
M 27
126
204
1.782
10.08
HE 300 M
238
340
310
21
39
27
303.1
262
208
M 27
132
208
1.832
7.699
HE 320 AA•
74,2
301
300
8
11
27
94.6
279
225
M 27
118
198
1.740
23.43
HE 320 A
97,6
310
300
9
15.5
27
124.4
279
225
M 27
118
198
1.756
17.98
HE 320 B
127
320
300
11.5
20.5
27
161.3
279
225
M 27
122
198
1.771
13.98
HE 320 C*
186
340
305
16
30.5
27
236.9
279
225
M 27
126
204
1.822
9.796
HE 320 M
245
359
309
21
40
27
312.0
279
225
M 27
132
204
1.866
7.616
HE 340 AA•
78,9
320
300
8.5
11.5
27
100.5
297
243
M 27
118
198
1.777
22.52
HE 340 A
105
330
300
9.5
16.5
27
133.5
297
243
M 27
118
198
1.795
17.13
HE 340 B
134
340
300
12
21.5
27
170.9
297
243
M 27
122
198
1.810
13.49
HE 340 M
248
377
309
21
40
27
315.8
297
243
M 27
132
204
1.902
7.670
HE 360 AA•
83,7
339
300
9
12
27
106.6
315
261
M 27
118
198
1.814
21.67
HE 360 A
112
350
300
10
17.5
27
142.8
315
261
M 27
120
198
1.834
16.36
HE 360 B
142
360
300
12.5
22.5
27
180.6
315
261
M 27
122
198
1.849
13.04
HE 360 M
250
395
308
21
40
27
318.8
315
261
M 27
132
204
1.934
7.730
HE 400 AA•
92,4
378
300
9.5
13
27
117.7
352
298
M 27
118
198
1.891
20.46
HE 400 A
125
390
300
11
19
27
159.0
352
298
M 27
120
198
1.912
15.32
HE 400 B
155
400
300
13.5
24
27
197.8
352
298
M 27
124
198
1.927
12.41
HE 400 M
256
432
307
21
40
27
325.8
352
298
M 27
132
202
2.004
7.835
HE 450 AA•
99,7
425
300
10
13.5
27
127.1
398
344
M 27
120
198
1.984
19.89
HE 450 A
140
440
300
11.5
21
27
178.0
398
344
M 27
122
198
2.011
14.39
HE 450 B
171
450
300
14
26
27
218.0
398
344
M 27
124
198
2.026
11.84
HE 450 M
263
478
307
21
40
27
335.4
398
344
M 27
132
202
2.096
7.959
HE 500 AA•
107
472
300
10.5
14
27
136.9
444
390
M 27
120
198
2.077
19.33
HE 500 A
155
490
300
12
23
27
197.5
444
390
M 27
122
198
2.110
13.60
HE 500 B
187
500
300
14.5
28
27
238.6
444
390
M 27
124
198
2.125
11.34
HE 500 M
270
524
306
21
40
27
344.3
444
390
M 27
132
202
2.184
8.079
HE 550 AA•
120
522
300
11.5
15
27
152.8
492
438
M 27
122
198
2.175
18.13
HE 550 A
166
540
300
12.5
24
27
211.8
492
438
M 27
122
198
2.209
13.29
HE 550 B
199
550
300
15
29
27
254.1
492
438
M 27
124
198
2.224
11.15
HE 550 M
278
572
306
21
40
27
354.4
492
438
M 27
132
202
2.280
8.195
HE 600 AA•
129
571
300
12
15.5
27
164.1
540
486
M 27
122
198
2.272
17.64
HE 600 A
178
590
300
13
25
27
226.5
540
486
M 27
122
198
2.308
12.98
HE 600 B
212
600
300
15.5
30
27
270.0
540
486
M 27
126
198
2.323
10.96
HE 600 M
285
620
305
21
40
27
363.7
540
486
M 27
132
200
2.372
8.308
HE 600 x 337•
337
632
310
25.5
46
27
429.2
540
486
M 27
138
202
2.407
7.144
HE 600 x 399•
399
648
315
30
54
27
508.5
540
486
M 27
142
208
2.450
6.137
HE 650 AA•
138
620
300
12.5
16
27
175.8
588
534
M 27
122
198
2.369
17.17
HE 650 A
190
640
300
13.5
26
27
241.6
588
534
M 27
124
198
2.407
12.69
HE 650 B
225
650
300
16
31
27
286.3
588
534
M 27
126
198
2.422
10.77
HE 650 M
293
668
305
21
40
27
373.7
588
534
M 27
132
200
2.468
8.411
HE 650 x 343•
343
680
309
25
46
27
437.5
588
534
M 27
138
202
2.500
7.278
HE 650 x 407•
407
696
314
29.5
54
27
518.8
588
534
M 27
142
206
2.543
6.243
HE 700 AA•
150
670
300
13
17
27
190.9
636
582
M 27
122
198
2.468
16.46
HE 700 A
204
690
300
14.5
27
27
260.5
636
582
M 27
124
198
2.505
12.25
HE 700 B
241
700
300
17
32
27
306.4
636
582
M 27
126
198
2.520
10.48
HE 700 M
301
716
304
21
40
27
383.0
636
582
M 27
132
200
2.560
8.513
HE 700 x 352•
352
728
308
25
46
27
448.6
636
582
M 27
138
200
2.592
7.359
HE 700 x 418•
418
744
313
29.5
54
27
531.9
636
582
M 27
142
206
2.635
6.310
HE 800 AA•
172
770
300
14
18
30
218.5
734
674
M 27
130
198
2.660
15.51
HE 800 A
224
790
300
15
28
30
285.8
734
674
M 27
130
198
2.698
12.03
HE 800 B
262
800
300
17.5
33
30
334.2
734
674
M 27
134
198
2.713
10.34
HE 800 M
317
814
303
21
40
30
404.3
734
674
M 27
138
198
2.746
8.655
HE 800 x 373•
373
826
308
25
46
30
474.6
734
674
M 27
144
200
2.782
7.469
HE 800 x 444•
444
842
313
30
54
30
566.0
734
674
M 27
148
206
2.824
6.357
HE 900 AA•
198
870
300
15
20
30
252.2
830
770
M 27
130
198
2.858
14.44
HE 900 A
252
890
300
16
30
30
320.5
830
770
M 27
132
198
2.896
11.51
HE 900 B
291
900
300
18.5
35
30
371.3
830
770
M 27
134
198
2.911
9.99
HE 900 M
333
910
302
21
40
30
423.6
830
770
M 27
138
198
2.934
8.824
HE 900 x 391•
391
922
307
25
46
30
497.7
830
770
M 27
144
200
2.970
7.604
HE 900 x 466•
466
938
312
30
54
30
593.7
830
770
M 27
148
204
3.012
6.464
HE 1000 AA•
222
970
300
16
21
30
282.2
928
868
M 27
132
198
3.056
13.80
HE 1000 x 249•
249
980
300
16.5
26
30
316.8
928
868
M 27
134
194
3.080
12.37
HE 1000 A
272
990
300
16.5
31
30
346.8
928
868
M 27
132
198
3.095
11.37
HE 1000 B
314
1000
300
19
36
30
400.0
928
868
M 27
134
198
3.110
9.905
HE 1000 M
349
1008
302
21
40
30
444.2
928
868
M 27
138
198
3.130
8.978
HE 1000 x 393•
393
1016
303
24.4
43.9
30
500.2
928
868
M 27
142
198
3.140
8.010
HE 1000 x 415•
415
1020
304
26
46
30
528.7
928
868
M 27
144
198
3.150
7.600
HE 1000 x 438•
438
1026
305
26.9
49
30
556.0
928
868
M 27
146
198
3.170
7.250
HE 1000 x 494•
494
1036
309
31
54
30
629.1
928
868
M 27
148
204
3.190
6.470
HE 1000 x 584•
584
1056
314
36
64
30
743.7
928
868
M 27
154
208
3.240
5.560
British universal columns
British Universal columns , widely known as UC Dimensions: BS 4-1: 2005
Tolerances: EN 10034: 1993
Surface condition: according to EN 10163-3: 2004, class C, subclass 1
| | | | | | | | | | | | | | | |
| --- | --- | --- | --- | --- | --- | --- | --- | --- | --- | --- | --- | --- | --- | --- |
| Item | G | h | b | tw | tf | r | A | hi | d | Ø | pmin | pmax | AL | AG |
| | kg/m | mm | mm | mm | mm | mm | mm2 | mm | mm | | mm | mm | m2/m | m2/t |
| | | | | | | | x102 | | | | | | | |
| UC 152 x 152 x 23* | 23.0 | 152.4 | 152.2 | 5.8 | 6.8 | 7.6 | 29.25 | 138.8 | 123.6 | M20 | 72 | 76 | 0.889 | 38.72 |
| UC 152 x 152 x 30* | 30.0 | 157.6 | 152.9 | 6.5 | 9.4 | 7.6 | 38.26 | 138.8 | 123.6 | M20 | 72 | 76 | 0.901 | 29.99 |
| UC 152 x 152 x 37* | 37.0 | 161.8 | 154.4 | 8.0 | 11.5 | 7.6 | 47.11 | 138.8 | 123.6 | M20 | 74 | 78 | 0.912 | 24.66 |
| UC 203 x 203 x 46+ | 46.1 | 203.2 | 203.6 | 7.2 | 11.0 | 10.2 | 58.73 | 181.2 | 160.8 | M27 | 90 | 104 | 1.189 | 25.79 |
| UC 203 x 203 x 52+ | 52.0 | 206.2 | 204.3 | 7.9 | 12.5 | 10.2 | 66.28 | 181.2 | 160.8 | M27 | 90 | 104 | 1.196 | 22.99 |
| UC 203 x 203 x 60+ | 60.0 | 209.6 | 205.8 | 9.4 | 14.2 | 10.2 | 76.37 | 181.2 | 160.8 | M27 | 90 | 106 | 1.206 | 20.12 |
| UC 203 x 203 x 71+ | 71.0 | 215.8 | 206.4 | 10.0 | 17.3 | 10.2 | 90.43 | 181.2 | 160.8 | M27 | 92 | 106 | 1.220 | 17.18 |
| UC 203 x 203 x 86+ | 86.1 | 222.2 | 209.1 | 12.7 | 20.5 | 10.2 | 109.6 | 181.2 | 160.8 | M27 | 94 | 110 | 1.238 | 14.38 |
| UC 254 x 254 x 73+ | 73.1 | 254.1 | 254.6 | 8.6 | 14.2 | 12.7 | 93.10 | 225.7 | 200.3 | M27 | 100 | 152 | 1.488 | 20.35 |
| UC 254 x 254 x 89+ | 88.9 | 260.3 | 256.3 | 10.3 | 17.3 | 12.7 | 113.3 | 225.7 | 200.3 | M27 | 102 | 154 | 1.503 | 16.90 |
| UC 254 x 254 x 107+ | 107.1 | 266.7 | 258.8 | 12.8 | 20.5 | 12.7 | 136.4 | 225.7 | 200.3 | M27 | 104 | 156 | 1.521 | 14.21 |
| UC 254 x 254 x 132+ | 132.0 | 276.3 | 261.3 | 15.3 | 25.3 | 12.7 | 168.1 | 225.7 | 200.3 | M27 | 108 | 160 | 1.545 | 11.71 |
| UC 254 x 254 x 167+ | 167.1 | 289.1 | 265.2 | 19.2 | 31.7 | 12.7 | 212.9 | 225.7 | 200.3 | M27 | 112 | 164 | 1.579 | 9.449 |
| UC 305 x 305 x 97+ | 96.9 | 307.9 | 305.3 | 9.9 | 15.4 | 15.2 | 123.4 | 277.1 | 246.7 | M27 | 102 | 204 | 1.791 | 18.48 |
| UC 305 x 305 x 118+ | 117.9 | 314.5 | 307.4 | 12.0 | 18.7 | 15.2 | 150.2 | 277.1 | 246.7 | M27 | 104 | 206 | 1.809 | 15.34 |
| UC 305 x 305 x 137+ | 136.9 | 320.5 | 309.2 | 13.8 | 21.7 | 15.2 | 174.4 | 277.1 | 246.7 | M27 | 106 | 208 | 1.824 | 13.32 |
| UC 305 x 305 x 158+ | 158.1 | 327.1 | 311.2 | 15.8 | 25.0 | 15.2 | 201.4 | 277.1 | 246.7 | M27 | 108 | 210 | 1.841 | 11.65 |
| UC 305 x 305 x 198+ | 198.1 | 339.9 | 314.5 | 19.1 | 31.4 | 15.2 | 252.4 | 277.1 | 246.7 | M27 | 112 | 212 | 1.874 | 9.455 |
| UC 305 x 305 x 240+ | 240.0 | 352.5 | 318.4 | 23.0 | 37.7 | 15.2 | 305.8 | 277.1 | 246.7 | M27 | 116 | 216 | 1.907 | 7.942 |
| UC 305 x 305 x 283+ | 282.9 | 365.3 | 322.2 | 26.8 | 44.1 | 15.2 | 360.4 | 277.1 | 246.7 | M27 | 120 | 218 | 1.940 | 6.856 |
| UC 356 x 368 x 129+ | 129.0 | 355.6 | 368.6 | 10.4 | 17.5 | 15.2 | 164.3 | 320.6 | 290.2 | M27 | 98 | 262 | 2.139 | 16.58 |
| UC 356 x 368 x 153+ | 152.9 | 362.0 | 370.5 | 12.3 | 20.7 | 15.2 | 194.8 | 320.6 | 290.2 | M27 | 100 | 264 | 2.155 | 14.09 |
| UC 356 x 368 x 177+ | 177.0 | 368.2 | 372.6 | 14.4 | 23.8 | 15.2 | 225.5 | 320.6 | 290.2 | M27 | 102 | 266 | 2.172 | 12.27 |
| UC 356 x 368 x 202+ | 201.9 | 374.6 | 374.7 | 16.5 | 27.0 | 15.2 | 257.2 | 320.6 | 290.2 | M27 | 104 | 268 | 2.189 | 10.84 |
| UC 356 x 406 x 235+ | 235.1 | 381.0 | 394.8 | 18.4 | 30.2 | 15.2 | 299.0 | 320.6 | 290.2 | M27 | 106 | 288 | 2.278 | 9.693 |
| UC 356 x 406 x 287+ | 287.1 | 393.6 | 399.0 | 22.6 | 36.5 | 15.2 | 365.7 | 320.6 | 290.2 | M27 | 112 | 294 | 2.312 | 8.053 |
| UC 356 x 406 x 340+ | 339.9 | 406.4 | 403.0 | 26.6 | 42.9 | 15.2 | 433.0 | 320.6 | 290.2 | M27 | 118 | 292 | 2.346 | 6.900 |
| UC 356 x 406 x 393+ | 393.0 | 419.0 | 407.0 | 30.6 | 49.2 | 15.2 | 500.6 | 320.6 | 290.2 | M27 | 122 | 296 | 2.379 | 6.053 |
| UC 356 x 406 x 467+ | 467.0 | 436.6 | 412.2 | 35.8 | 58.0 | 15.2 | 594.9 | 320.6 | 290.2 | M27 | 128 | 300 | 2.424 | 5.191 |
| UC 356 x 406 x 551+ | 551.0 | 455.6 | 418.5 | 42.1 | 67.5 | 15.2 | 701.9 | 320.6 | 290.2 | M27 | 134 | 306 | 2.475 | 4.492 |
| UC 356 x 406 x 634+ | 633.9 | 474.6 | 424.0 | 47.6 | 77.0 | 15.2 | 807.5 | 320.6 | 290.2 | M27 | 140 | 312 | 2.524 | 3.981 |
British universal beams
UB – UNIVERSAL BEAMS Dimensions: BS 4-1: 2005 UB 127-914
ASTM A 6/A 6M – 07 UB 1016
Tolerances: EN 10034: 1993 UB 127-914
ASTM A 6/A 6M – 07 UB 1016
Surface condition: according to EN 10163-3: 2004, class C, subclass 1
| | | | | | | | | | | | | | | |
| --- | --- | --- | --- | --- | --- | --- | --- | --- | --- | --- | --- | --- | --- | --- |
| ITEM | G | h | b | tw | tf | r | A | hi | d | Ø | pmin | pmax | AL | AG |
| | kg/m | mm | mm | mm | mm | mm | mm2 | mm | mm | | mm | mm | m2/m | m2/t |
| | | | | | | | x102 | | | | | | | |
| UB 127 x 76 x 13+/* | 13.0 | 127.0 | 76.0 | 4.0 | 7.6 | 7.6 | 16.52 | 111.8 | 96.6 | – | – | – | 0.537 | 41.41 |
| UB 152 x 89 x 16+/* | 16.0 | 152.4 | 88.7 | 4.5 | 7.7 | 7.6 | 20.32 | 137 | 121.8 | – | – | – | 0.638 | 39.97 |
| UB 178 x 102 x 19+/* | 19.0 | 177.8 | 101.2 | 4.8 | 7.9 | 7.6 | 24.26 | 162 | 146.8 | M10 | 50 | 58 | 0.738 | 38.74 |
| UB 203 x 102 x 23+/* | 23.1 | 203.2 | 101.8 | 5.4 | 9.3 | 7.6 | 29.40 | 184.6 | 169.4 | M10 | 54 | 58 | 0.790 | 34.22 |
| UB 203 x 133 x 25+/* | 25.1 | 203.2 | 133.2 | 5.7 | 7.8 | 7.6 | 31.97 | 187.6 | 172.4 | M16 | 64 | 70 | 0.915 | 36.45 |
| UB 203 x 133 x 30+/* | 30.0 | 206.8 | 133.9 | 6.4 | 9.6 | 7.6 | 38.21 | 187.6 | 172.4 | M16 | 66 | 70 | 0.923 | 30.78 |
| UB 254 x 102 x 22+/* | 22.0 | 254.0 | 101.6 | 5.7 | 6.8 | 7.6 | 28.02 | 240.4 | 225.2 | M10 | 50 | 58 | 0.890 | 40.47 |
| UB 254 x 102 x 25+/* | 25.2 | 257.2 | 101.9 | 6.0 | 8.4 | 7.6 | 32.04 | 240.4 | 225.2 | M10 | 52 | 58 | 0.897 | 35.66 |
| UB 254 x 102 x 28+/* | 28.3 | 260.4 | 102.2 | 6.3 | 10.0 | 7.6 | 36.08 | 240.4 | 225.2 | M12 | 54 | 54 | 0.904 | 31.92 |
| UB 254 x 146 x 31+/* | 31.1 | 251.4 | 146.1 | 6.0 | 8.6 | 7.6 | 39.68 | 234.2 | 219 | M16 | 66 | 82 | 1.062 | 34.10 |
| UB 254 x 146 x 37+/* | 37.0 | 256.0 | 146.4 | 6.3 | 10.9 | 7.6 | 47.17 | 234.2 | 219 | M16 | 66 | 82 | 1.072 | 28.95 |
| UB 254 x 146 x 43+/* | 43.0 | 259.6 | 147.3 | 7.2 | 12.7 | 7.6 | 54.77 | 234.2 | 219 | M16 | 66 | 84 | 1.081 | 25.14 |
| UB 305 x 102 x 25+ | 24.8 | 305.1 | 101.6 | 5.8 | 7.0 | 7.6 | 31.60 | 291.1 | 275.9 | M10 | 56 | 58 | 0.992 | 39.98 |
| UB 305 x 102 x 28+ | 28.2 | 308.7 | 101.8 | 6.0 | 8.8 | 7.6 | 35.88 | 291.1 | 275.9 | M10 | 58 | 58 | 1.000 | 35.49 |
| UB 305 x 102 x 33+ | 32.8 | 312.7 | 102.4 | 6.6 | 10.8 | 7.6 | 41.83 | 291.1 | 275.9 | M10 | 58 | 60 | 1.009 | 30.72 |
| UB 305 x 127 x 37+ | 37.0 | 304.4 | 123.4 | 7.1 | 10.7 | 8.9 | 47.18 | 283 | 265.2 | M16 | 67 | 69 | 1.073 | 28.97 |
| UB 305 x 127 x 42+ | 41.9 | 307.2 | 124.3 | 8.0 | 12.1 | 8.9 | 53.40 | 283 | 265.2 | M16 | 68 | 70 | 1.080 | 25.77 |
| UB 305 x 127 x 48+ | 48.1 | 311.0 | 125.3 | 9.0 | 14.0 | 8.9 | 61.23 | 283 | 265.2 | M16 | 69 | 71 | 1.090 | 22.67 |
| UB 305 x 165 x 40+ | 40.3 | 303.4 | 165.0 | 6.0 | 10.2 | 8.9 | 51.32 | 283 | 265.2 | M22 | 76 | 84 | 1.240 | 30.77 |
| UB 305 x 165 x 46+ | 46.1 | 306.6 | 165.7 | 6.7 | 11.8 | 8.9 | 58.75 | 283 | 265.2 | M22 | 76 | 84 | 1.247 | 27.05 |
| UB 305 x 165 x 54+ | 54.0 | 310.4 | 166.9 | 7.9 | 13.7 | 8.9 | 68.77 | 283 | 265.2 | M22 | 78 | 84 | 1.257 | 23.29 |
| UB 356 x 127 x 33+ | 33.1 | 349.0 | 125.4 | 6.0 | 8.5 | 10.2 | 42.13 | 332 | 311.6 | M12 | 62 | 74 | 1.170 | 35.38 |
| UB 356 x 127 x 39+ | 39.1 | 353.4 | 126.0 | 6.6 | 10.7 | 10.2 | 49.77 | 332 | 311.6 | M12 | 62 | 74 | 1.180 | 30.21 |
| UB 356 x 171 x 45+ | 45.0 | 351.4 | 171.1 | 7.0 | 9.7 | 10.2 | 57.33 | 332 | 311.6 | M22 | 82 | 90 | 1.356 | 30.13 |
| UB 356 x 171 x 51+ | 51.0 | 355.0 | 171.5 | 7.4 | 11.5 | 10.2 | 64.91 | 332 | 311.6 | M22 | 82 | 90 | 1.364 | 26.76 |
| UB 356 x 171 x 57+ | 57.0 | 358.0 | 172.2 | 8.1 | 13.0 | 10.2 | 72.56 | 332 | 311.6 | M22 | 82 | 90 | 1.371 | 24.07 |
| UB 356 x 171 x 67+ | 67.1 | 363.4 | 173.2 | 9.1 | 15.7 | 10.2 | 85.49 | 332 | 311.6 | M22 | 84 | 92 | 1.384 | 20.62 |
| UB 406 x 140 x 39+ | 39.0 | 398.0 | 141.8 | 6.4 | 8.6 | 10.2 | 49.65 | 380.8 | 360.4 | M16 | 68 | 78 | 1.333 | 34.20 |
| UB 406 x 140 x 46+ | 46.0 | 403.2 | 142.2 | 6.8 | 11.2 | 10.2 | 58.64 | 380.8 | 360.4 | M16 | 68 | 78 | 1.344 | 29.20 |
| UB 406 x 178 x 54+ | 54.1 | 402.6 | 177.7 | 7.7 | 10.9 | 10.2 | 68.95 | 380.8 | 360.4 | M24 | 88 | 90 | 1.483 | 27.40 |
| UB 406 x 178 x 60+ | 60.1 | 406.4 | 177.9 | 7.9 | 12.8 | 10.2 | 76.52 | 380.8 | 360.4 | M24 | 88 | 90 | 1.491 | 24.82 |
| UB 406 x 178 x 67+ | 67.1 | 409.4 | 178.8 | 8.8 | 14.3 | 10.2 | 85.54 | 380.8 | 360.4 | M24 | 88 | 90 | 1.499 | 22.32 |
| UB 406 x 178 x 74+ | 74.2 | 412.8 | 179.5 | 9.5 | 16.0 | 10.2 | 94.51 | 380.8 | 360.4 | M24 | 88 | 92 | 1.507 | 20.31 |
| UB 457 x 152 x 52+ | 52.3 | 449.8 | 152.4 | 7.6 | 10.9 | 10.2 | 66.64 | 428 | 407.6 | M20 | 76 | 76 | 1.476 | 28.22 |
| UB 457 x 152 x 60+ | 59.8 | 454.6 | 152.9 | 8.1 | 13.3 | 10.2 | 76.23 | 428 | 407.6 | M20 | 76 | 76 | 1.487 | 24.85 |
| UB 457 x 152 x 67+ | 67.2 | 458.0 | 153.8 | 9.0 | 15.0 | 10.2 | 85.55 | 428 | 407.6 | M20 | 78 | 78 | 1.496 | 22.27 |
| UB 457 x 152 x 74+ | 74.2 | 462.0 | 154.4 | 9.6 | 17.0 | 10.2 | 94.48 | 428 | 407.6 | M20 | 78 | 78 | 1.505 | 20.29 |
| UB 457 x 152 x 82+ | 82.1 | 465.8 | 155.3 | 10.5 | 18.9 | 10.2 | 104.5 | 428 | 407.6 | M20 | 80 | 80 | 1.514 | 18.45 |
| UB 457 x 191 x 67+ | 67.1 | 453.4 | 189.9 | 8.5 | 12.7 | 10.2 | 85.51 | 428 | 407.6 | M27 | 90 | 90 | 1.632 | 24.31 |
| UB 457 x 191 x 74+ | 74.3 | 457.0 | 190.4 | 9.0 | 14.5 | 10.2 | 94.63 | 428 | 407.6 | M27 | 90 | 90 | 1.640 | 22.08 |
| UB 457 x 191 x 82+ | 82.0 | 460.0 | 191.3 | 9.9 | 16.0 | 10.2 | 104.5 | 428 | 407.6 | M27 | 92 | 92 | 1.648 | 20.09 |
| UB 457 x 191 x 89+ | 89.3 | 463.4 | 191.9 | 10.5 | 17.7 | 10.2 | 113.8 | 428 | 407.6 | M27 | 92 | 92 | 1.656 | 18.54 |
| UB 457 x 191 x 98+ | 98.3 | 467.2 | 192.8 | 11.4 | 19.6 | 10.2 | 125.3 | 428 | 407.6 | M27 | 92 | 92 | 1.665 | 16.94 |
| UB 533 x 210 x 82+ | 82.2 | 528.3 | 208.8 | 9.6 | 13.2 | 12.7 | 104.7 | 501.9 | 476.5 | M27 | 90 | 108 | 1.851 | 22.52 |
| UB 533 x 210 x 92+ | 92.1 | 533.1 | 209.3 | 10.1 | 15.6 | 12.7 | 117.4 | 501.9 | 476.5 | M27 | 92 | 110 | 1.861 | 20.20 |
| UB 533 x 210 x 101+ | 101.0 | 536.7 | 210.0 | 10.8 | 17.4 | 12.7 | 128.7 | 501.9 | 476.5 | M27 | 92 | 110 | 1.870 | 18.51 |
| UB 533 x 210 x 109+ | 109.0 | 539.5 | 210.8 | 11.6 | 18.8 | 12.7 | 138.9 | 501.9 | 476.5 | M27 | 94 | 108 | 1.877 | 17.22 |
| UB 533 x 210 x 122+ | 122.0 | 544.5 | 211.9 | 12.7 | 21.3 | 12.7 | 155.4 | 501.9 | 476.5 | M27 | 94 | 110 | 1.889 | 15.49 |
| UB 610 x 229 x 101+ | 101.2 | 602.6 | 227.6 | 10.5 | 14.8 | 12.7 | 128.9 | 573 | 547.6 | M27 | 92 | 126 | 2.073 | 20.48 |
| UB 610 x 229 x 113+ | 113.0 | 607.6 | 228.2 | 11.1 | 17.3 | 12.7 | 143.9 | 573 | 547.6 | M27 | 92 | 126 | 2.084 | 18.44 |
| UB 610 x 229 x 125+ | 125.1 | 612.2 | 229.0 | 11.9 | 19.6 | 12.7 | 159.3 | 573 | 547.6 | M27 | 94 | 128 | 2.095 | 16.75 |
| UB 610 x 229 x 140+ | 139.9 | 617.2 | 230.2 | 13.1 | 22.1 | 12.7 | 178.2 | 573 | 547.6 | M27 | 94 | 128 | 2.107 | 15.06 |